Oven
VEVOR 12″ Portable Pizza Oven Wood Fired Food Grade Stainless Steel for Outdoor BBQ Picnics Baking Pizza, Bread, Shrimp, Sausage
Get ready for a taste sensation with the VEVOR 12″ Portable Pizza Oven. This wood-fired wonder is made from food-grade stainless steel, ensuring safe and delicious cooking every time. Whether you're planning a picnic, hosting a backyard BBQ, or simply craving a homemade pizza, this portable oven is your go-to solution. It's perfect for baking pizzas and bread, as well as adding a smoky flavor to shrimp and sausage dishes. With its compact design and durable construction, this stainless steel pizza oven is ideal for outdoor cooking adventures. Upgrade your outdoor culinary game and savor the authentic flavors of wood-fired cooking with the VEVOR 12″ Portable Pizza Oven You may like: car vacuum cleaner
Availability:
261 in stock
$376.98
VEVOR 12″ Portable Pizza Oven Wood Fired Food Grade Stainless Steel for Outdoor BBQ Picnics Baking Pizza, Bread, Shrimp, Sausage
Introducing the VEVOR 12″ Portable Pizza Oven, your ultimate solution for delicious wood-fired pizza and outdoor cooking adventures. This versatile oven is designed with food-grade stainless steel, ensuring safe and high-quality cooking experiences. Whether you're hosting a backyard BBQ, going on a picnic, or simply craving a homemade pizza, this portable wood-fired pizza oven has got you covered.
Experience the authentic flavors and crispy crusts that only wood-fired cooking can offer. Perfectly bake your favorite pizzas and bread with the convenience of this compact oven. Its 12″ size makes it ideal for small gatherings and intimate outdoor events. You can also explore its versatility by using it to cook mouthwatering shrimp and sausage dishes, adding a sizzling touch to your BBQ sessions.
Crafted by VEVOR, a trusted brand in outdoor cooking equipment, this pizza oven delivers durability and performance. Its stainless steel construction ensures long-lasting use, while the portable design allows you to take it on camping trips, picnics, or any outdoor adventure. Get ready to impress your friends and family with restaurant-quality pizza right in your backyard or wherever your culinary journey takes you.
Product Description
VEVOR Wood Fired Pizza Oven Portable Pizza Oven 12″ Outdoor Pizza Oven BBQ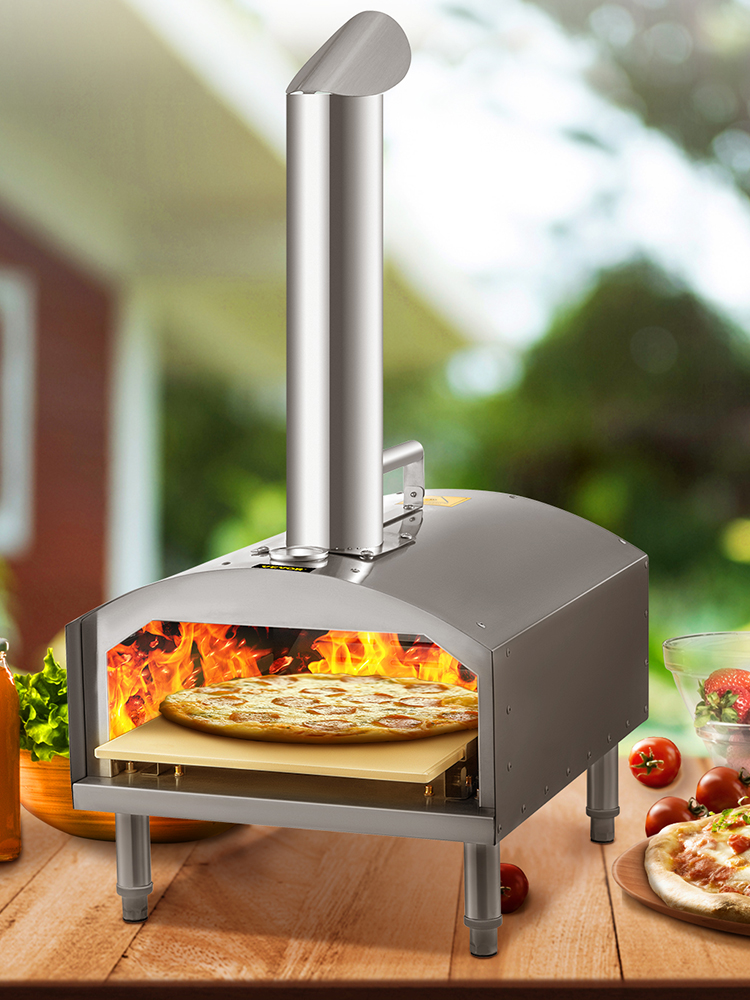 12″ Portable Pizza Oven
This 12″ portable pizza oven allows you to bake your pizza during outdoor picnics or parties. It can be heated for one minute to get delicious and crispy pizza. This pizza oven is easy to handle and store. Besides, it is convenient to operate and clean without trouble. We provide you with a wealth of accessories for better use and give you a choice to bake other delicious food.
Efficient & Even Heating
Compact & Portable Design
Food Grade Stainless Steel
Easy to Use & Clean
Get All You Want
Tough Equipment & Tools, Pay Less
VEVOR is a leading brand that specializes in equipment and tools. Along with thousands of motivated employees, VEVOR is dedicated to providing our customers with tough equipment & tools at incredibly low prices. Today, VEVOR's products are sold in more than 200 countries and regions with 10 million plus members worldwide.
Why Choose VEVOR?
Premium Tough Quality
Incredibly Low Prices
Fast & Secure Delivery
30-Day Free Returns
24/7 Attentive Service
Key Features
Ultra Fast HeatingBeing capable of heating up to 860°F in 15 minutes, our outdoor oven can give you more time to sit back and relax in your backyard while enjoying great pizzas. Built-in thermometer to monitor the temp. You can choose flavored pellets or wood chips to cook and create a rich, smoky flavor.
Easy to CarryThis portable pizza oven weighs only 36.8 pounds, which can be easily moved. With foldable legs and a removable chimney, it can save you a lot of effort and for your easy storage and transportation. It is a natural centerpiece of any gathering or camping trip.
Excellent Insulation EffectThe pizza oven's 430 stainless steel shell and internal insulation cotton can provide an ultra-high insulation system. The cordierite pizza stone can withstand high temperatures to 1472°F, making the inside of the pizza crust more fluffy.
Hassle-free OperationThe wood pizza oven outdoor is easy to install and use, and it has several tiny openings for your convenience. It is easy to clean after use; just wipe it with a damp cloth, saving you time and energy very well. It is convenient and user-friendly.
Perfect AccessoriesThe portable wood-fired pizza oven is equipped with a series of accessories to help you solve the problems of not crispy, scalded, and unevenly cut pizza. And you can use them for other baked food.
Versatile ApplicationThis pizza oven is designed for you who love delicious food—allowing you to try out all your favorite recipes and bake bread, chicken tenders, shrimp, cookies, pies, and any other pastry to perfection.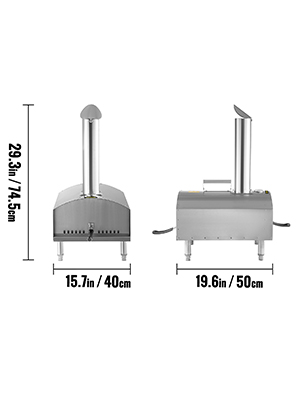 Specification
Model: vv-psl-468956
Pizza Size: 12 inch
Max Temperature: 800℃/1472℉
Material: 430 Stainless Steel
Pizza Stone Material: Cordierite
Fuel Type: Wood Pellet & Charcoal
Color: Silver
Product Size: 19.6 x 15.7 x 29.3″ / 50 x 40 x 74.5 cm
Weight: 36.8 LBS / 16.7 KG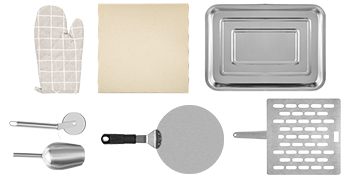 Package Content
1 x Portable Pizza Oven
1 x Cordierite Pizza Stone
1 x Oven Mitts
1 x Pizza Shovel
1 x Pizza Cutter
1 x Pizza Peel
1 x Wood Pellets Shovel
1 x Drip Pan
Features & Details
【Efficient & Even Heating】: Our wood fired pizza oven can be ready in 15 minutes. With a temperature of 860°F (460°C), it can cook delicious pizza in 60 seconds or less, as well as steaks, chicken wings, fish, burgers, salmon, and vegetable dishes, etc. Wood pellets, wood chips, charcoal are all suitable as fuels.
【Compact & Portable Design】: The durable and lightweight pizza oven is equipped with four folding legs, one movable chimney and can be easily assembled without tools. It can be quickly disassembled for easy storage. It weighs only 36.8 pounds, making it ideal for the backyard or outdoor cooking activities.
【Food Grade Stainless Steel】: The wood pellet pizza oven is made of high-quality stainless steel. This sturdy and compact construction can cook all types of food, and the outer shell provides the best heat preservation, allowing you to enjoy your food quickly.
【Easy to Use & Clean】: Cooking outdoors has never been easier: add burning particles at any time. When you start to clean, no need to disassemble. Just use a towel or rag to wipe the outside of the device. And the charcoal pellets and the ashes are placed in the same place, which is easy for you to operate.
【Get All You Want】: It comes with a wood fired pizza oven, a 12″ cordierite pizza stone, A oven mitt that keeps hands from being scalding, a pizza cutter for cutting, a pizza shovel for holding any conditions, a barbecue grill, and a drip pan for bake other food, a wood pellet shovel for taking charcoal pellets.
Product tags: Portable wood-fired pizza oven, Outdoor BBQ pizza oven, Food-grade stainless steel pizza oven, Pizza oven for picnics, Pizza oven for baking pizza and bread, Pizza oven for baking pizza and bread, Wood-fired oven for shrimp and sausage, VEVOR 12″ pizza oven, Stainless steel outdoor pizza oven, Portable oven for outdoor cooking, Wood-fired oven for backyard pizza parties
| | |
| --- | --- |
| Weight | 13.000 kg |
| Dimensions | 55 × 45 × 31 cm |
| Brand Name | VEVOR |
| Origin | CN(Origin) |
| Capacity | >41L |
| Power (W) | 0 |
| Voltage (V) | 0 |
| Certification | CE |
| Style | Horizontal |
| Control | Other |
| Material | Stainless steel, 430 Stainless Steel |
| Type | Wood Fired Oven, Pizza Oven |
| Number of Ovens | Single |
| Power Source | Fire |
| Pizza Size | 12 inch |
| Max Temperature | 800℃/1472℉ |
| Pizza Stone Material | Cordierite |
| Fuel Type | Wood Pellet & Charcoal |
| Color | Silver |
| Product Size | 19.6 x 15.7 x 29.3 |
| Weight | 36.8 LBS / 16.7 KG |
Based on 1 review
Only logged in customers who have purchased this product may leave a review.